Opera Customizing
Here you'll find my setup for the Opera browser.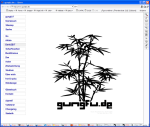 (click image to enlarge)
On the image to the right you can see how my current (27.11.2004) setup looks like.
My current setting (27.11.2004)
As of now from my customizations I am using only the ones changing the keyboards- and mouse-settings.
Additionally I am using the Web Development Toolbar by NonTroppo. A very handy thing to have.
Currently the Breeze-skin is my favorite since it maximizes screen real estate and does not distract from content.
See the following text for more customizations and links to other pages.
Buttons
Simply drag'n'drop to your toolbar. More on creating your own buttons can be found on Custom Buttons to Drag'n'Drop into your Opera 7.
Search-engine customizations
A list of se7-files for engines I've added via Opsed.
Externals
Things from external sources...
Add-ons
Skins
My favorite skins are
You can get more on Opera 7 Skins/Themes.
Tools
Opsed - an editor for search.ini. Very handy.
your skin's images - shows all the images/icons in the skin currently used (retrieved from the browser) and explains their meanings.
Keyboard
Goals
I try to give most commands via the keyboard. So my keyboard-setup is under constant change and evolution.
Following are the current changes.
Changes
s mark email as spam & read (added)
s ctrl alt = shortcut for 'mark as not spam' (added)
e ctrl shift = shortcut for 'open in IE' (added)
s ctrl = 'save document with images'
m ctrl shift hides hotlist
f ctrl shift shortcut to 'open in Firefox' (29.06.'04)
It was necessary to remove the other binding to f ctrl shift in the Application Section of the keyboard.ini.
extended 'Ctrl 3'-shortcut for mail panel: Open unread and show mail-panel.
Currently a subsequent 'ctrl 3' does not hide the panel again :-(
'k' marks mail read even if the mail-list is not focused.
'g' does not mark mail read.
'Insert' creates new folder in mail, contacts, bookmarks and notes panel.
Del ctrl empties trash in mail, contacts and notes panel.
'shift enter' does not read mail. (same as 'enter')
Mouse gestures
Goals
The mouse gestures are very comfortable to control Opera with. I changed it's behavior to better fit my preferences.
Changes
'down left' collapses window and maximizes after repeating that gesture.
'up left' duplicates the current page.
'up' opens page in source viewer.
'up left up' creates a linked page.
Downloads
Opera - since version 7.10, I think - makes it quite easy to adopt customizations. Simply clicking one of the following links to the according ini-file will start the process: Opera downloads the ini, changes the settings and then asks whether these new settings should be kept. So at least for the toolbar and the menu one can see the new look before deciding to keep or abandon it.
Other tweaks
For 7.50p2 I added [HotlistWindow]
Hotlist Single Click=0 to opera6.ini. (19.02.'04)
Additionally
There's also a category on Opera in my blog. This might be the most up to date place to look for 'things Opera' on my site.